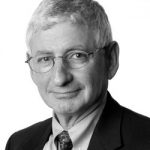 El Dr. Irving Wladawsky-Berger se retiró de IBM en mayo del 2007, luego de una carrera de 37 años en la empresa, durante la cual su enfoque principal fue la innovación y la estrategia técnica. Lideró múltiples de las iniciativas de la empresa, incluidas la Internet y el "e-buisness", el "supercomputing", y Linux. En su rol emérito, ha continuado colaborando con la empresa en nuevas estrategias de mercado tales como el "Cloud Computing" y los "Smart Cities".
En marzo del 2008, el Dr. Wladawsky-Berger se unió a Citi como un asesor estratégico, trabajando en innovación e iniciativas tecnológicas, incluyendo la transición al dinero digital y pagos vía móvil. Desde el 2005, ha estado escribiendo un blog semanal (irvingwb.com) y, en abril del 2012, se convirtió en un contribuyente regular del CIO Journal (del Wall Street Journal).
El es profesor visitante en el MIT Sloan School of Management and Engineering Systems Division, profesor adjunto/asociado en el Innovation and Entrepeneurship Group del Imperial College Buisness School, ejecutivo en Residencia en el Center for Urban Science and Progress de NYU, y catedrático en el Levin Institute de la Universidad Estatal de Nueva York. Oriundo de Cuba, el Dr. Wladawsky-Berger fue nombrado Ingeniero Hispánico del año, en el 2001.
El Dr. Wladawsky-Berger recibió un M.S. y un Ph. D. en física de la Universidad de Chicago.